Tips For Choosing The Right Flooring for Your Remodel
The flooring you choose for your home renovation can have a major impact on the tone, feel, and aesthetic of your new space. In some cases, flooring can represent a substantial portion of your overall budget and is especially true if you're dealing with significant square footage.
Yet, flooring is one of the most important elements to consider when it comes to transforming a space. It can add significant value to your home and be the difference between a gorgeous, high-end remodel and an average, unexceptional one.
8 Tips to Choose the Perfect Flooring for your Remodel
1. Choose Lighter Flooring For Smaller Spaces
Lighter floors can make a compact bathroom, bedroom, or dining room feel larger and more spacious. Darker floors (along with darker walls and furnishings) tend to make cozy spaces feel cramped and confined. When it comes to enclosed areas, the lighter and brighter you make them, the larger they'll feel.
2. Kitchens and Bathrooms Need Moisture-Resistant Flooring
Kitchens and bathrooms are inevitably exposed to moisture. Even if you're very careful not to drip or spill, the humidity that exists in these areas can take a toll on your floors over time, especially if they're not made to withstand moisture.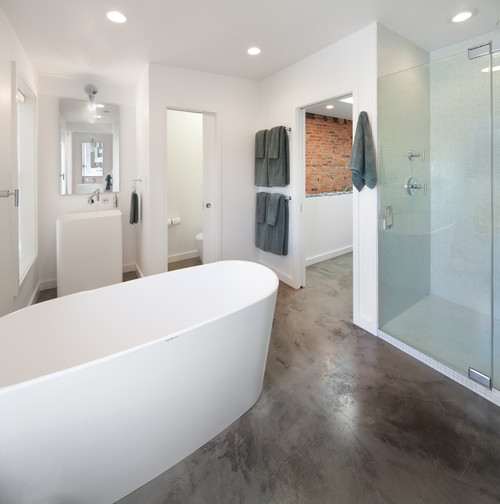 Concrete, ceramic, and porcelain or vinyl tile are all good options for high-moisture areas. Other types of flooring can work, but may require additional upkeep and care.
3. Calculate Your Budget Per Square Foot
In many cases, flooring plays a major role in the overall cost of a remodel, especially if you're working with a large area. That's why we recommend calculating your total flooring budget before you make a decision on flooring. For example, marble may be affordable in a bathroom, but may not be as realistic if you were to install it in your kitchen as well.
One of the first things you should do when you're planning a remodel is to determine the square footage of your space and work out how that may affect your budget.
4. Don't Overlook Resale Value
Even if you would be perfectly happy with wall-to-wall lime green carpeting throughout your home, many potential homebuyers won't be. If you plan on selling in the future, it's important to think about resale value. The flooring you choose isn't necessarily just a personal upgrade; it can also be an investment. New, quality flooring can add instant value to your home.
5. Darker Floors Do Better In Direct Sunlight
Direct sunlight can reflect off of lighter floors and create an unpleasant and sometimes stuffy environment. Darker floors tend to absorb sunlight much more effectively, making the space feel bright, but not blinding. If you have floor-to-ceiling windows or skylights anywhere in your home, consider choosing darker flooring.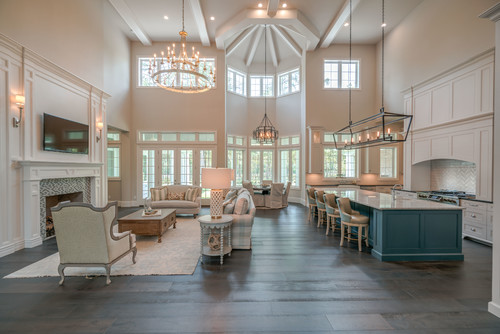 6. Pine Flooring Provides Instant Southern Charm
Pine flooring has become a popular choice for homeowners and builders across the country. Yet it's also uniquely Southern. From longleaf-yellow to loblolly, incorporating pine-wood floors into your remodel will give your home the Southern charm you're looking for.
7. Consider Whether You Need Pet-Friendly Flooring
Those of us who own pets know how much joy they can bring to our lives. But let's face it: they can also damage your floors and other furnishings. Dogs and cats especially tend to scratch floors over time with their nails and claws. Durability of flooring is always important, but if you have pets, it becomes even more essential.
8. Consider Maintenance Requirements
Hardwood floors are absolutely gorgeous, and installing or refinishing them can add instant value to your home. That being said, they require far more maintenance than modern vinyl or laminate flooring. Water, moisture, harsh vacuuming, or the wrong cleaning products can damage your hardwood floors.
Installing hardwoods is generally worth it, but doing so does come with a bit of extra work (and money). One way to help protect and preserve them is to use runners and throw rugs, especially in high-traffic areas. This will limit the amount of wear and tear they're exposed to, which is a positive if you want them to last for years to come.
Choose the Perfect Flooring for Your Space
At Kamanski Construction, we know that any good remodel is tailored to the individual homeowner. Our years of experience have taught us how to help our clients choose the right flooring for them and their unique needs, vision, lifestyle, and budget.
If you're planning a home remodel, we're here to help. Check out our portfolio, call us at (864) 800-9912, or contact us online with questions or to get started.