10 Cool Basement Renovation Ideas to Finish Your Space
Cracked concrete floors, exposed framing, and spiders? Unfinished basements can seem cold, dreary, and unwelcoming — just a place to store old photos and camping gear, right? In reality, an unfinished basement is a treasure trove of possibilities. It's a blank canvas just waiting to be painted!
If you're looking for a way to boost your property value, add usable square footage, and create a space that's unique and perfectly suited to your needs, finishing your basement is the perfect way to do it.
The possibilities are endless. Keep reading to discover 10 awesome ways to finish your basement!
1. Home Office Space
Finishing your basement is the perfect way to build a larger office space in your home without having to sacrifice a bedroom. Once they're finished, basements are generally quiet, private, and somewhat separate from the rest of a house. This makes them ideal home office spaces.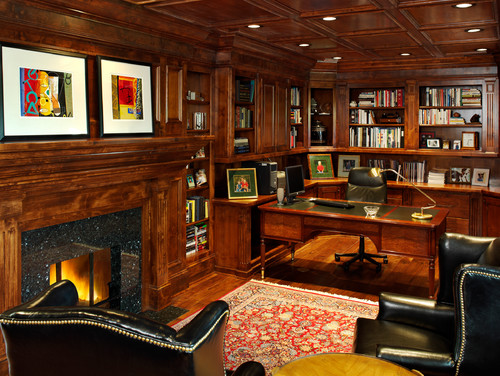 The sky's the limit when it comes to the features you can include. Build a traditional study or library-style office, a modern workspace with a built-in desk and plenty of space for extra monitors, or even a dual-desk oasis for you and your spouse or partner.
2. Family Room
If you've always wanted the perfect cozy family room, renovating your basement is the perfect way to make it happen. This idea allows you to reserve your living room for when guests come over and transform your basement into a casual, comfortable place for you and your loved ones to spend quality time, watch movies, play video or board games, and just relax.
If you have the extra space in your basement, think about adding a small kitchenette or bar for snacks and drinks and additional storage for blankets, games, and anything else you might need.
3. Guest Bedroom or In-Law Suite
Finish your basement and add a bedroom to your home in one project! Transforming your unfinished basement into a bedroom is great for when guests come to visit. It's also a good option if you have teenagers or young adults living at home that need their own space, or if you have an elderly parent or relative living with you.
If you want to make the space as livable as possible, turn it into a full suite by adding a bathroom and kitchenette, or even make it a legal accessory dwelling unit (ADU).
4. Home Theater
Finished basements make the perfect home theaters. They're naturally sound-proofed, window-free, and self-contained. Set up a big screen and awesome sound system in your basement, add recliners or a sectional (or both!), and you're all set! If you want to take it to the next level, think about including dimmable wall-lighting, a bar or popcorn machine at the back, movie posters, and cup holders in your furniture.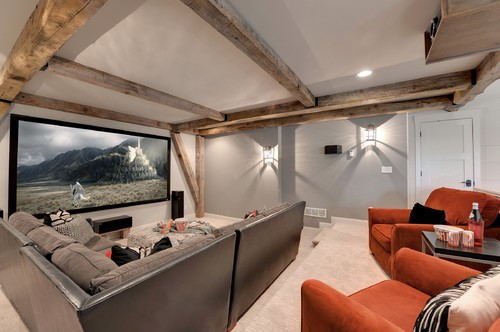 5. Craft or Hobby Studio
Setting up a craft or hobby room in your basement gives you a dedicated space to do what you love! Especially if you have a hobby or activity that requires extra space or storage, like painting, sewing, woodworking, or sculpting, a basement workspace designed specifically with your hobby (or hobbies) in mind is the perfect solution.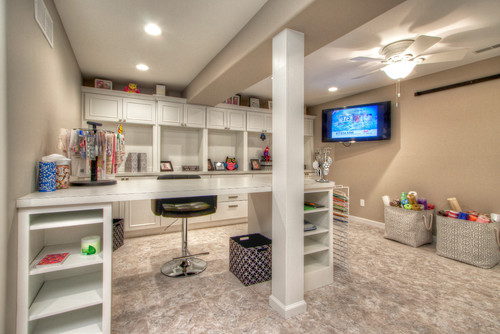 If you have multiple hobbies or family members with different interests, and the extra space for it, you can consider sectioning off your basement when you finish it to have dedicated areas for different hobbies or purposes.
Here are a few ideas for basement hobby rooms:
Photography studio
Art studio
Craft or toy room for kids
Sewing room
Woodworking shop
Pottery studio
Jewelry-making studio
6. Home Gym
Finished basements make ideal home gyms. Since basement floors are generally sturdy and don't have other rooms below them, they're ideal surfaces for heavy equipment, weight racks, and machines.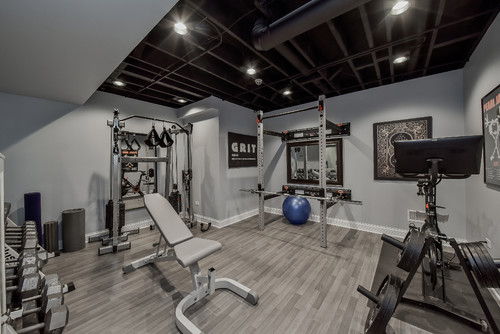 The main thing to keep in mind with basement home gyms is ceiling height. While just about any basement space can accommodate yoga mats, fitness balls, and a stationary bike, some larger machines and equipment may be too tall to fit in a basement with very low ceilings. To make your space feel bigger than it is, think about adding floor-to-ceiling mirrors and/or choosing lighter colors for your floors and walls.
7. Basement Bar
Imagine entertaining friends and family while you mix them a drink from your very own bar in your basement. Whether you convert your entire space into a fully stocked bar with extra stools and a pool table, or you decide to build a bar along the back wall of a home-theater or family-room basement, adding a bar to your finished basement is a unique and fun feature.
Just keep in mind it means you'll probably be hosting Super Bowl parties at your house until the end of time.
8. Laundry Room
Lots of homes have laundry hookups in the basement, but these spaces are usually cold, dusty, and just not very pleasant places to fold your towels and socks. Finish your basement into a fully stocked laundry room! This idea gives you tons of extra space and a place to do laundry that's warm, dry, organized, and even stylish.
Here are some features to think about including in a finished basement laundry room:
A large folding table
Labeled storage cubes
A sink for hand-washing delicates
Cabinets for cleaning supplies
An ironing board
Hooks and storage bins for out-of-season clothes
9. Home Spa
Imagine settling in and relaxing in a sauna, steam room, or jetted tub without ever leaving the comfort of your home! Building a home spa in your basement allows you to choose the features you want and create a perfect relaxing oasis beneath your home. It's also a super unique and memorable attribute if you ever decide to sell.
If you have the space, you can even consider including both a spa and a home gym in your basement renovation. That way, you can work out and then relax your muscles and unwind in your home spa.
10. Game Room
From darts and billiards to poker and board games, putting a fully-equipped game room in your basement is bound to impress your friends and family and transform your basement into a space you love and enjoy spending time in.
To make your basement game room even more fun, consider including a few retro arcade machines, comfy seating and a TV for video games, and a fridge or fully-stocked bar for snacks and drinks. You'll find once you're down there, you never want to leave.
Thinking of renovating your basement?
Does one of these ideas (or something completely different) get you excited about renovating your unfinished basement? Whether you want a decked-out home theater with a built-in bar, an organized laundry space, a home gym, or the home office you've always wanted, we can make it happen!
At Kamanski Construction, our goal is to give you the home you're dreaming of. No project is too big or too small, too complex or too simple. We're here to deliver you the results you want, on time and on budget.
Check out our portfolio to get an idea of our work and don't hesitate to contact us online with any questions or to get started.